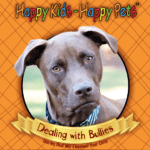 Stories the whole family can enjoy and learn from. Our app features over 100 stories written and read aloud by our dog friends!
They show kids how they dealt with not so nice dogs. Maybe you or a family member has had a time where they dealt with bullying. These stories are for those very situations and how to deal with them, using our animal friends experiences. Talented voice acting will make these animal characters come to life while learning important life lessons and entertain your family.
These two categories address social issues such as bullying, self-esteem, peaceful friendships, respect for self and others,
and giving back to the community.
This App contains 100+ stories for elementary age kids, "written" and "read aloud" by dogs. Either the dogs were bullied
or their human brother or sister.
Our App is perfect for your kids on getting tips on life and bullying situations.
Now at the Apple or Google Play Store! 99¢ each